Product Description
Buddy Belt's unique, patented design reduces stress on your pet's neck, is easy to use, and made with 100% leather and quality hardware. This "Elite Collection" Buddy Bahama Harness is a soft tropical themed print on pebble grain leather and is assembled using gold hardware, gold logo tag and gold 'Proudly Canadian' woven tag. The Nylon Accent leashes are made with gold webbing, gold hardware and a gold woven tag to match the BB harnesses.

Product Details

The functional design of the Buddy Belt harness lets your dog step in easily and fastens with one buckle. The stylish harness has a unique, low-cut patented design ensuring pressure is minimized on your dog's neck and spine.

Attach both the leash and ID tags to the sliding o-ring. The o-ring slides to accommodate leash mobility while the Buddy Belt stays snugly in place.

The Product Size Guide below are specifications for this product only.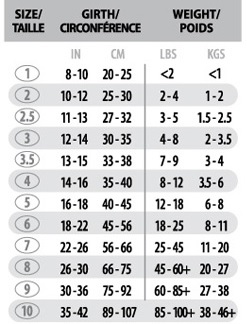 How to Wear & Check for Proper Fit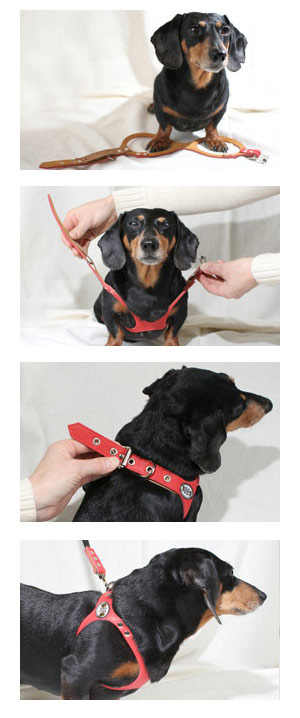 Care Guide

BUDDY BELTS are made of leather. Before initial wear, it is highly recommended that you treat your BUDDY BELT with a quality water and stain repellent product. We offer stain guard service with Vectra 16 Protectant for $3-5 which repels tough stains while keeping the suede and leather soft and luxurious looking. Regular stain repellent treatment is recommended to keep your Buddy Belt looking its best. If your BUDDY BELT gets wet, allow it to dry flat at room temperature. Never put leather in the dryer. For suede BUDDY BELTS, buff with a soft towel to restore the surface. Try to avoid products with silicone and/or wax as these ingredients tend to break down the natural oils in leather. Apply product initially and every two to three months with regular wear. Please note that the BUDDY BELT is not intended for swimming or other full water play. To clean your BUDDY BELT, gently blot liquid stains with a damp cloth. In the event of salt stains from winter wear, wipe with a clean, damp cloth after each wear and dry naturally. Re-treat as necessary. Our stain guard treatment is non-refundable.


Need assistance with finding the right size? Please contact us and we will be happy to help.
Product Videos
Custom Field
Product Reviews