Just-a-Cinch Leash
Just-a-Cinch Leash
Ships in:
3-5 business days. USA Only.
This convenient product offers a leash, a collar, and safety all in one. Keep one in your pack, purse, or glove compartment for impromptu adventures. Integrated reflectivity for low-light visibility.

just-a-cinch™ leash
LEASH WITH A BUILT-IN COLLAR
Intended Use:
For spontaneous walks, training sessions or road trips. Just-a-Cinch offers a leash, a collar, and safety all in one. An integrated correction collar slips over dog's head.
Key Features:
• Strong, supple kernmantle rope
• Cinch lead design for convenient correction
• Silicone friction slider provides a customized fit
• Comfortable, easy to hold tubular webbing handle
• Convenient accessory loop for pickup bags or small clip-on items
• Low-light visibility with reflective trim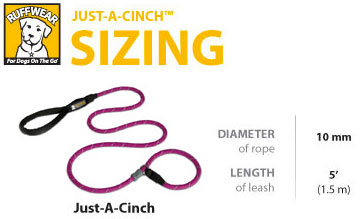 Not sure? View the Ruff Wear
Leash Comparison Chart
to help find the one right for you.
*Shipping Information
Shipping costs within the USA are included in the final product price. You will not be charged additional shipping fees for this item at checkout. This item will not count towards any free shipping promotion on other items in your order. In most cases, this item will ship separately from other items in your order.
This item cannot be shipped to PO Boxes and APO/FPO addresses. If you purchase more than one Ruff Wear item, you may be eligible for a shipping discount - please contact us for a quote.