Organic Bumper Pet Bed
Organic Bumper Pet Bed
Availability:
3-5 business days.
Get the comfy bed your pet deserves, in the color style that looks great in your home. Mix and match five color options! For both cats and dogs. Made in the USA from organic fabrics and recycled bottles.

Price below includes *shipping!
Additional Product Details
The Organic Bumper Bed® is made with a removable organic cotton cover, helping our Earth by reducing the amount of chemicals we put into the ground. The cushion used on the inside of the donut dog bed is made from 100% recycled IntelliLoft®, which was previously plastic soda bottles. This eco-friendly dog bed is non-toxic and has been certified safe by Öko-Tex.
Intelliloft
Created from post-consumer recycled plastic bottles, IntelliLoft® is safe, re-engineered fibers that diverts unnecessary waste from going to your landfill and takes eight times less energy than producing fabric from virgin fibers.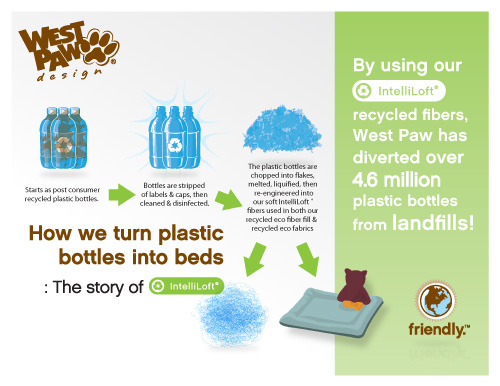 IntelliLoft® stuffing comprised of 100% post-consumer recycled and reengineered fiber fill. By using IntelliLoft® stuffing in our stuffed beds, West Paw Design is able to divert millions of plastic bottles from going to landfills! See how many recycled bottles you help divert with each Organic Bumper Bed® bed you purchase: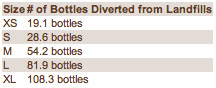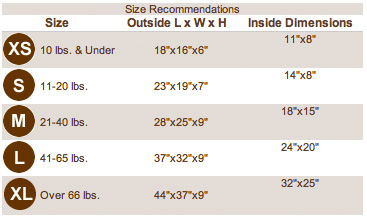 Machine washable with a zippered opening for easy washing. Detailed wash and care instructions can be found here. Made in Montana, USA.
*Shipping
Shipping costs are included in the final product price. You will not be charged additional shipping on this item at checkout. Please select the correct shipping method to avoid delays in your order. This product will be shipped separately from other items in your order via standard ground service. Express shipping is available - please contact us for a quote. Sorry, this item will not count towards any free shipping promotion on other items in your order.