Turnup
Turnup
Ships in:
3-5 business days. USA Only.
This interactive toy is almost round, so it bounces in all directions - ideal for athletic dogs of any size. It is compatible with ball throwers for hours of fetching fun!

turnup™
WHERE WILL IT TURN UP?
Intended Use:
• Park fetching
• Treat dispensing
• At-home play
• A great alternative to a tennis ball
Please note:
All Ruff Wear toys are interactive and intended for supervised play. They are not designed to be chew toys. Once the interactive play has finished, place the Ruff Wear toy out of your dog's reach and replace with a designated chew toy.
Key Features:
• Durable, resilient, and virtually indestructible
• Fits in standard sized ball thrower
• Made from natural latex rubber, a renewable and sustainable resource
• Textured divots stimulate healthy gums and teeth
• Two holed design prevents suction
• Sized like a tennis ball; 3 inches tall (76 millimeters,) 2.5 inches in diameter (64 millimeters)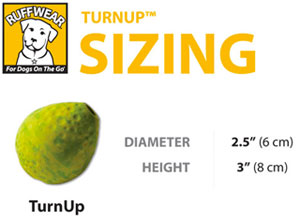 Not sure? View the Ruff Wear
Toy Comparison Chart
to help find the one right for you.
*Shipping Information
Shipping costs within the USA are included in the final product price. You will not be charged additional shipping fees for this item at checkout. This item will not count towards any free shipping promotion on other items in your order. In most cases, this item will ship separately from other items in your order.
This item cannot be shipped to PO Boxes and APO/FPO addresses. If you purchase more than one Ruff Wear item, you may be eligible for a shipping discount - please contact us for a quote.