Ahh Valentines! The season of love, romance, and togetherness! Single people, like yours truly, sometimes feel left out by this couples-oriented holiday. To hell with that I say! If you're a pet owner you already have the best partner in the world! Here's some ways you can show your affection to your furry friend:
Get Them A New Toy!
Gifts are a big part of Valentines Day and what better gift to give your pet then a new toy! If you're looking to stay with the theme of the holiday, Jax and Bones make an awesome Chain of Hearts Rope Toy that is sure to be a hit with your fur baby.
Go On a Long Walk!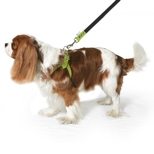 Your dog wants nothing more than to spend some quality outdoor time with you! Dogs love to go on walks and as an added benefit, you're getting some quality exercise. If you're going to do that, I highly recommend the Buddy Belt harnesses and Leads to use. Their patented design allows for full control, while never coming close to their neck or any other uncomfortable spots.
Enjoy a Snack Together!

Nothing says Valentines Day like curling up on a couch, watching a rom-com, and crying into a pint of ice cream (Anybody? Just Me? Okay.) Now your dog can join in with you! Puppy Scoops makes Ice Cream mixes for dogs that are lactose free and in flavors that dogs love! The creators, Puppy Cake, make a number of yummy treats for your pet to try including cake, cookies, and Jello!
Give Them a Nice Bath!

Freshening up and looking good is a huge part of the Valentines experience. Giving your dog a bath is a great way to spend some time with them and clean up for the rest of the day! Isle of Dogs is my favorite pet shampoo to give to my dog, and their everyday collection is fantastic for regular use. With scents like Violet + Sea Mist or Jasmine + Vanilla, you're going to love the way your dog smells after their bath and you're going to notice a higher quality coat!
Visit Their Favorite Pet Store!
A trip to your dog's favorite pet store with them is like taking a child to the toy store! We here at Funny Fur love to have any and all pets show up to get some delicious treats and try on some beautiful clothing. If you're in the area, come stop by our store, located at 3268 Westheimer Rd., Houston, Texas 77098!