Rawhides are the most popular chews for dogs, but they are also the most dangerous. What exactly is rawhide. It's not a by-product of meat; it's actually the by-product of the Leather Industry. A more accurate name would be processed-hide, because the skin isn't raw at all. Sounds delicious, right? There are tons of natural alternatives for rawhides that are safe, easily digestible, and will sure to keep your pup occupied! Although, a few of these chews may not last a long a rawhide, they are much more safer, tastier and healthier.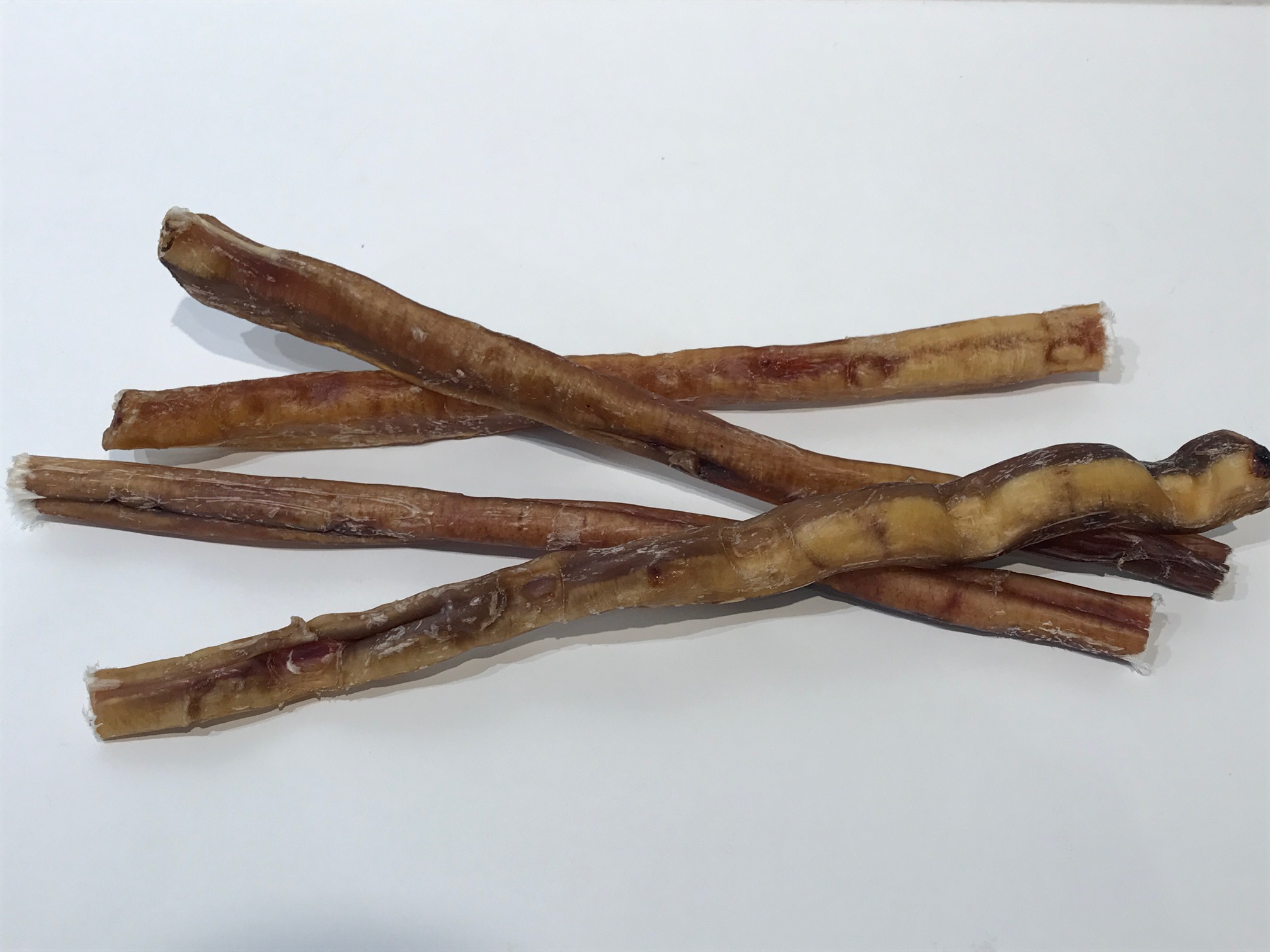 Bravo Dry Roasted All-Natural Bully Sticks
Source and made in the USA by a family-owned company, these bully sticks are made from bull. They are cleaned and then dry roasted. Unlike most company, Bravo does not stretch their bully sticks, keeping them as natural as possible. These bully sticks are noticeably larger and provide a long lasting, satisfying chew. They are high in protein and low in fat. Great for cleaning teeth cleaning and will not stain carpet or furniture.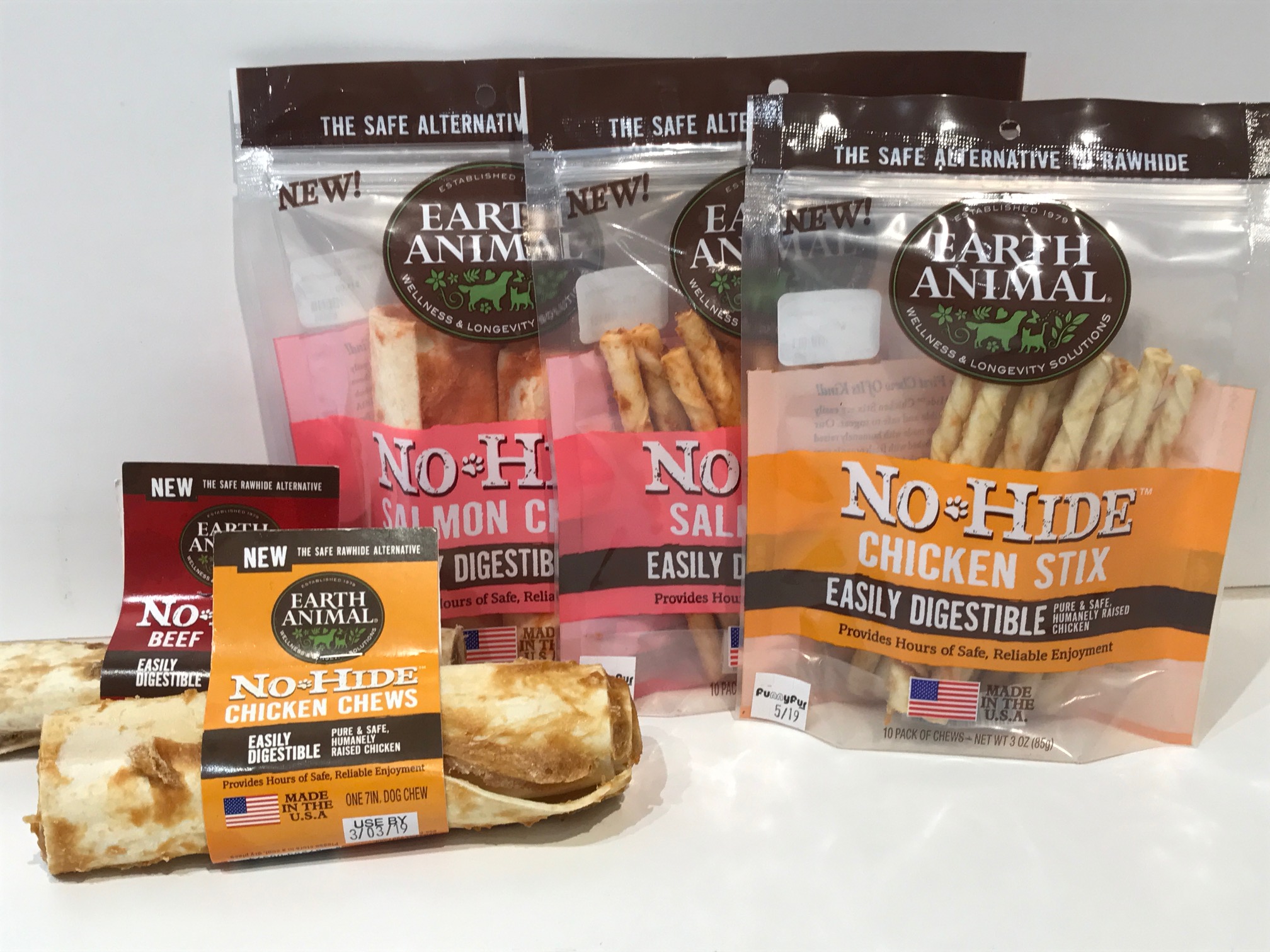 Earth Animal No-Hide Chews
No-Hide chews are completely digestible, safe for dogs, and are made with the highest quality, human grade ingredients available. These chicken chews are made with humanely raised chicken, not factory farms. They are rolled out and cooked with chicken, chicken gelatin, brown rice flour, fresh organic eggs, olive oil, banana, and Bromelain. Bromelain is an enzyme found abundantly in pineapples which help to fight allergies, cancer, and arthritis. They are available in different sizes and come in beef, salmon, and pork. Unlike rawhide, these contain no chemicals, additives, bleaches, dyes, or formaldehydes.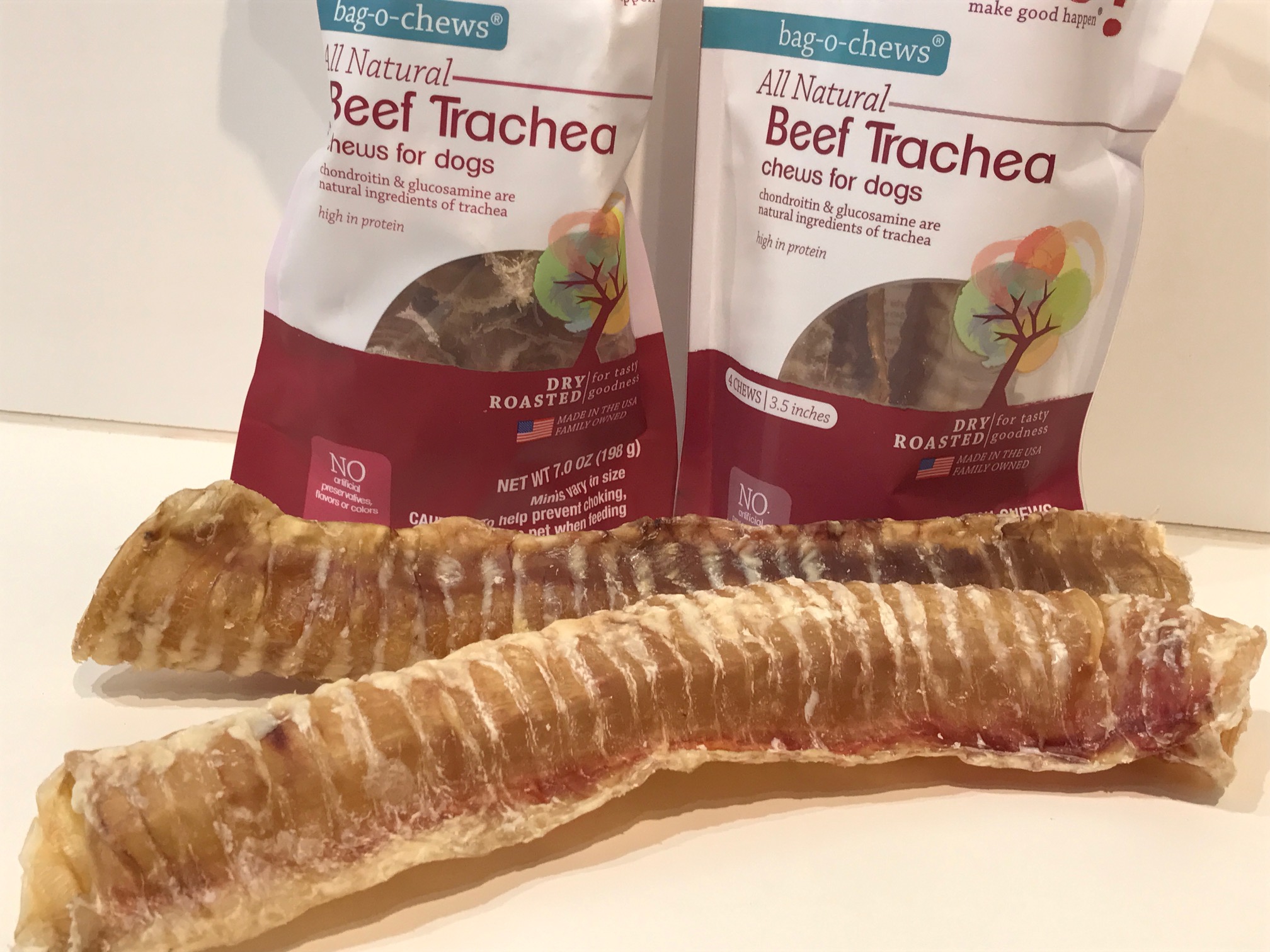 Bravo Dry Roasted Beef Trachea
Tracheas are a great natural alternative to rawhide and naturally contain a great source of Chondroitin and Glucosamine which promote strong healthy joints. As dogs chew, the crunchy texture also helps to naturally clean their teeth. These tracheas are available in 8 inch, 3.5 inch, and mini 1-2 inch lengths perfect for small breed dogs. They are all-natural, no artificial preservatives, flavors, or colors and come in convenient resealable pouches. Great for cleaning teeth cleaning and will not stain carpet or furniture.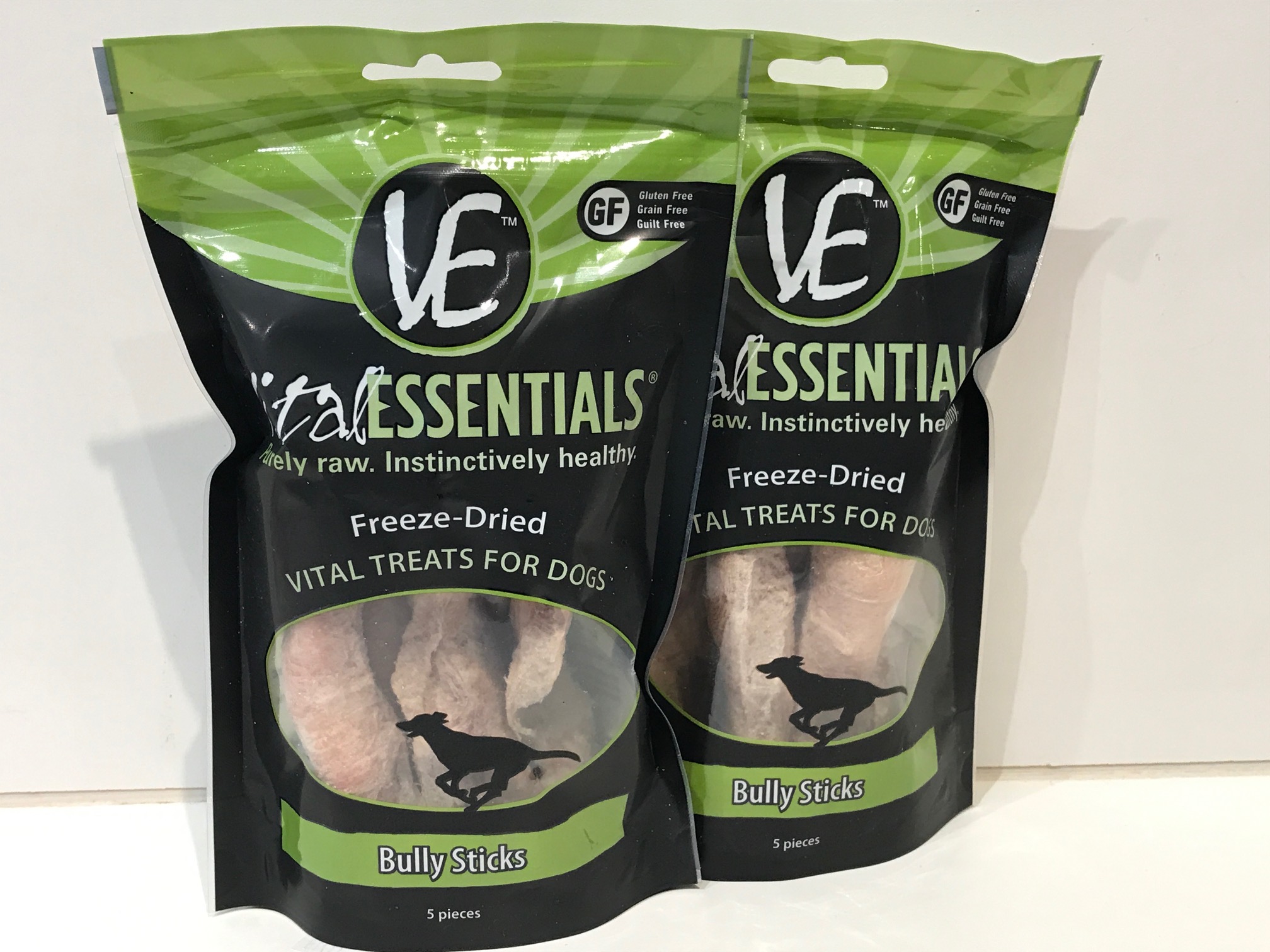 Vital Essential Freeze Dried Bully Sticks
The 48 hour freeze-drying process gives an intensely rich flavor that even the pickiest of eaters can't resist! The freeze drying process also makes these bully sticks much more softer compared to regular roasted bully sticks, making these great for small breed dogs and dogs with fewer teeth. There are 5 sticks in a resealable pouch.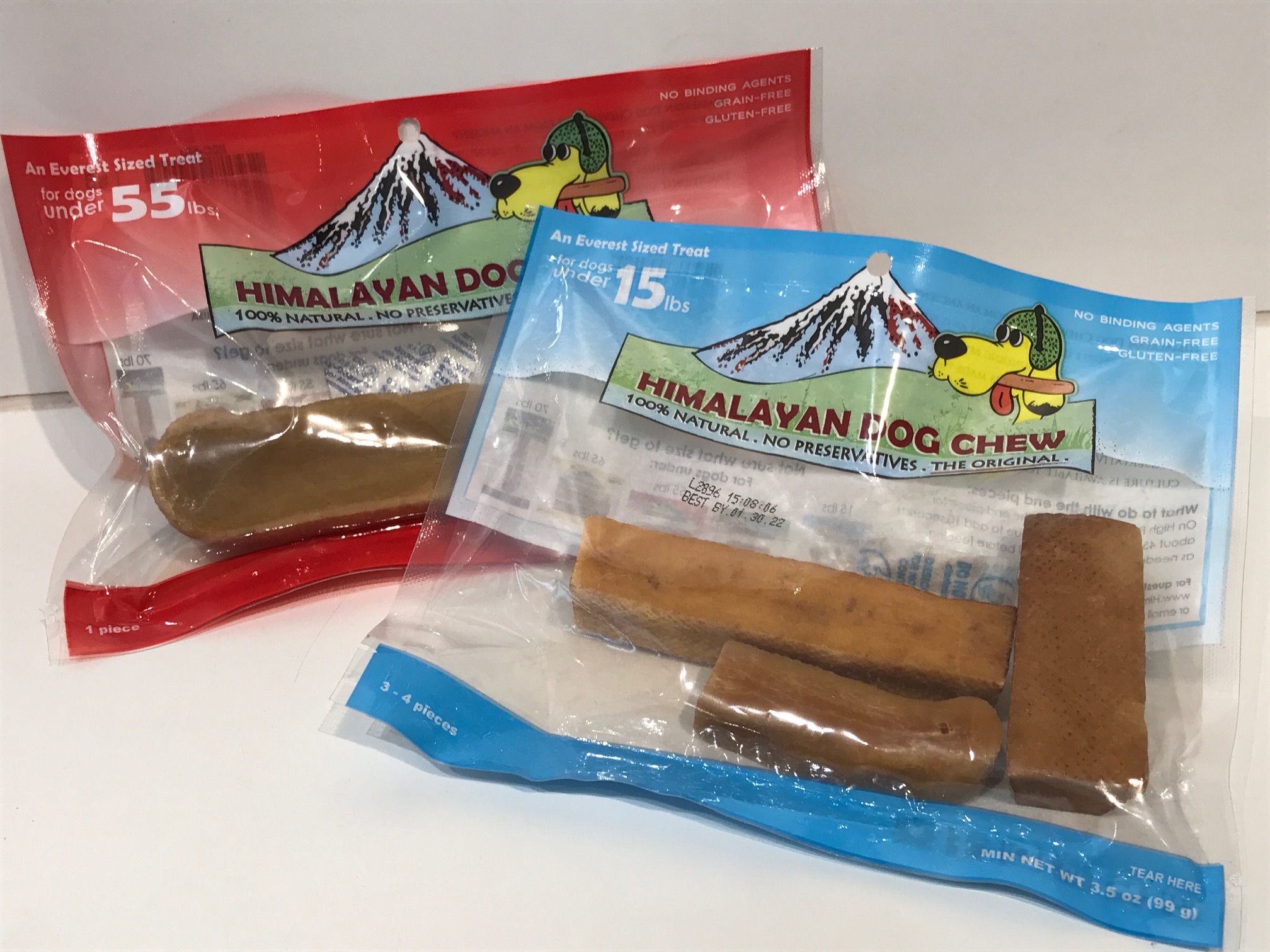 Himalayan Dog Chews
Cheese, please! Himalayan chews come from an ancient recipe of the people of the Himalayans and Nepal using Yak and Cow milk to make hard smoked cheese. These chews are meant to be chewed down over extended intervals of time. Once these Himalayan chews go down to about an inch, thrown the end piece into the microwave for 45 seconds. The piece will puff up into a cheese puff! Allow puff to cool before feeding.