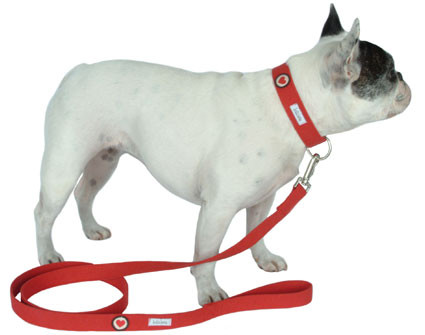 Spring is here, spring is there, spring is in the air. There's just something about spring that makes you want to turn over a new leaf and say, "Out with the old; in with the new!" Well, while you're sprucing up your own wardrobe, don't leave your little pooch in the dust. Now is a perfect time to splurge on some new Funny Fur dog collars for your puppy to enjoy this year; after all, he or she needs one, so why not make wearing them fun from one season to the next?
For a dog collar that will work this spring and in any other season, try the Beejeweled Collar -- a perfect addition to your dog's collar collection. This is an adjustable collar featuring ribbon along with soft webbing for a chic, comfortable look and feel. The collar is designed to be easy to use and long lasting. Both the Saffron and Rhubarb versions of this collar will make your lovable furry friend even cuter looking in the eyes of passersby. The Flower Leather Collar is another excellent choice for this beautiful spring and Easter season.
So, just because it's spring now doesn't mean it's too early to think ahead to fall, too. The Autumn Collective Collar is perfect for your furry friend to don during the fall season or really any other time of the year. Its design mirrors that of the Beejewled Collar for a stylish yet comfortable fit, and it comes in three styles that are sure to put both you and your dog in an excellent mood just by looking at them: Night Owl, Falling Leaves, and Autumn Squirrels.
During the holiday season, the Vintage Holiday Collar or Rockabilly Holiday Collar are sure to put you in even more of a Christmas season as well. With the help of Funny Fur, you can easily find the most exciting dog collars to usher in every season.