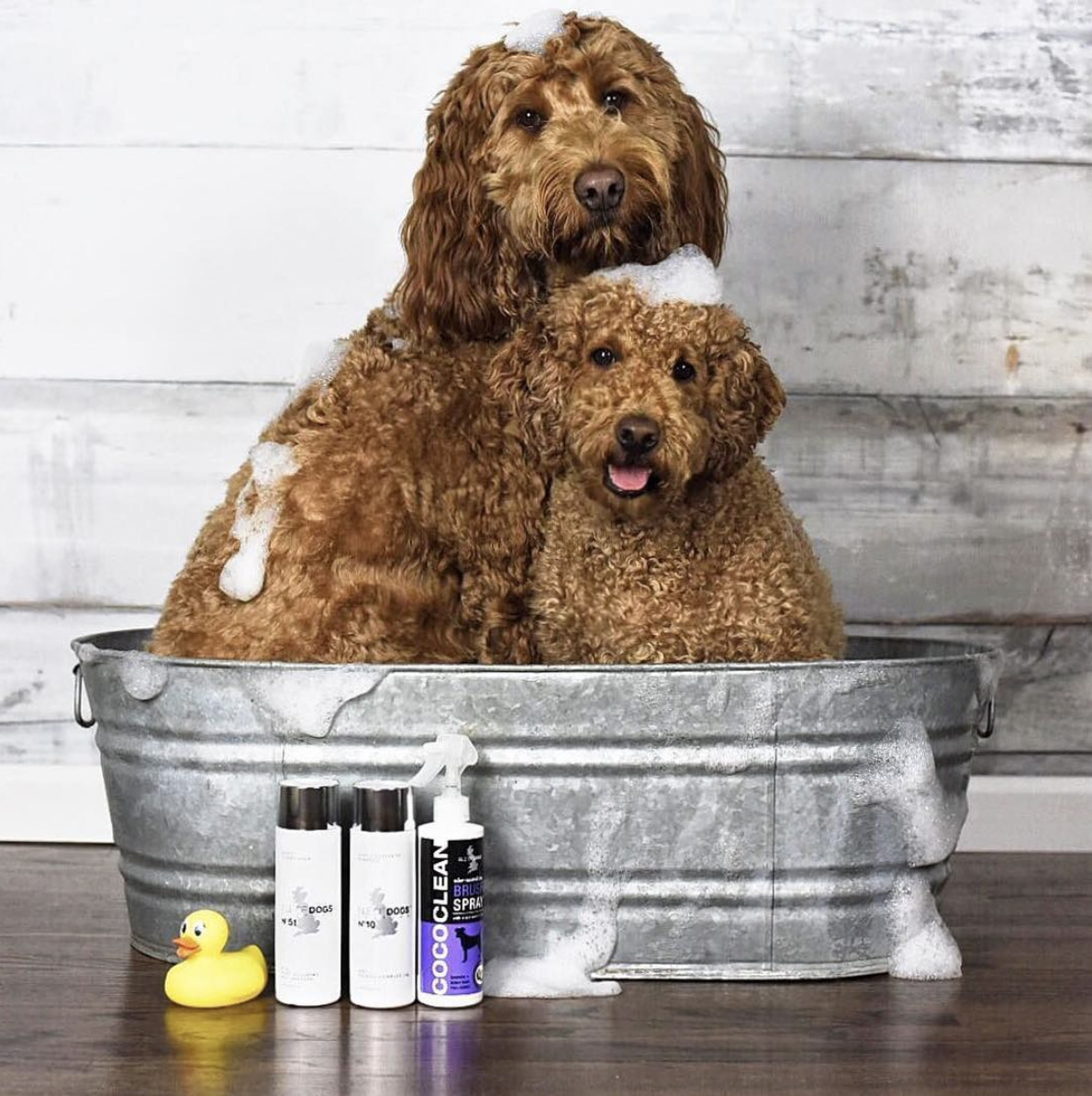 Shampoo is one of the products that often goes unnoticed. A majority of dog shampoos on the market are "one size fits all." Not all pet shampoos are the same. In an era of technology and sophisticated botanical extractions, a properly picked shampoo can do much more than clean.
Let's think about it from a human perspective. While some can pick a random shampoo bottle from the endless array of choices on the shelves, many of us have special needs when it come to our scalp and hair. With so many different names, labels, and claims, it may seem difficult to pick the right shampoo for our hair type. Please note, it is not good to use human shampoo on pets. Humans and pets do not have the same pH level. And let's not forget, our hair and scalp needs differ from our pets.
Not all pet shampoos are the same. Making use of some of the finest ingredients, Isle of Dogs' Coature collection is specifically designed to work with dogs' coats and appropriate pH. Their unique formulations result in superior performance. The Coature line is a sophisticated collection using key ingredients like cold-pressed Evening Primrose and Royal Jelly. This collection is not used just for show dogs. From their gentle cleansing to white coat shampoo (customer favorite!), this collection can be customized for your dog, depending on coat type, skin issue, and desired style.
Evening Primrose Oil
Normally when we shampoo a dog, we strip out the natural oils from the coat. this often causes dryness, itching, and flaking. The Evening Primrose Oil in the Isle of Dogs' shampoo help by replacing those oils, without making the coat feel heavy, greasy or oil. For dogs with sensitive skin or damaged coats, Evening Primrose Oil helps to heal, soothe and moisturize. It is also renown for its healing and calming effects.
Royal Jelly
Royal Jelly is a milk-like secretion made by worker bees in the beehive, so named because it serves as the sole food for the queen bee. It supplies all the B vitamins, vitamins A, C, D, E, and K, more than a dozen key minerals, eighteen amino acids, and other important constituents, including nucleic acids (DNA and RNA). Research has shown that feeding the hair follicle this protein will encourage hair regeneration.
My dog, Charlie, is prone to itchy, allergy sensitive skin. During the summer time, Charlie usually scratches more than the norm. For his grooming regimen, I use No. 12 Triple Strength Evening Primrose Oil, No. 50 Light Management Conditioner, and I finish him off with No. 62 Evening Primrose Conditioning Mist. The shampoo and conditioners is gentle enough to use everyday (I bathe Charlie once a week). In between baths, I usually spray him with the No. 62 Conditioning Mist and simply brush him out. Not only does this 3-step regimen help relief Charlie's itch, it also leaves his wiry coat feeling so soft and bouncy. And it smells so good too!
It is important to know which products are best for our dog and bring out his or her unique shine. Unsure of your dog's skin type? Isle of Dogs can help create a customized health and beauty system for your dog based on breed, habits and coat type by filling out their Coat Check Application.
Achieve salon results in your very own bathtub! If your dog has normal skin and coat, Isle of Dogs created three other collections (Everyday NaturaLuxury, Everyday Elements, and CocoClean) of shampoos, conditioners, and sprays that can be used interchangeably to fit any pet's bathing ritual.