My dog is about as goofy as any other dog, with tons of enthusiasm for the outdoors. That being said, she is a double coated Shepherd/Husky mix. Which means humid summers in Houston can get awful for her, when fleas, ticks, and mosquitoes-- all disease ridden and parasitic-- are out in force. This means I have to protect her, both through consistent grooming and a combination of pest repelling products.
Grooming for the summer merits its own post, so I will go over some of the products Usagi and I love to use before, after, and in between, grooming sessions. To start off, I use Wondercide's Flea + Tick Pets & Home Spray to repel those pests. The spray I use is the Cedar based 4oz bottle, a convenient size to use on both my dog and my cats. A quick rub down and spray with this great smelling spray every 2-3 days, and my pets are ready for the outdoors. Even better, I can then take this same spray and go over my bedding, furniture, and anywhere my pets may have lain and left unwanted hitchhikers behind.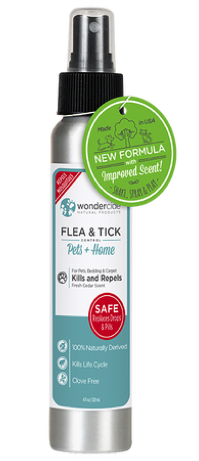 Wondercide is an Austin-based company, who have taken it upon themselves to make 100% natural products to protect against pests without the use of chemicals seen in other common flea and tick solutions. They got their start when the founder's own dog was diagnosed with pesticide poisoning and was no longer able to tolerate conventional treatments which used harsher chemicals. The company has since begun supplying us pet guardians with natural alternatives, without sacrificing our or our dog's health to effectively kill and repel.
Another great product I like to use for my dog is Vet's Best Hot Spot Spray. When Usagi has pollen or fleas stuck under her double coat, it is unfortunately easy for her to develop allergic reactions and further irritate those spots by scratching herself raw. This is when I pull out the Vet's Best and spray directly onto her irritated skin, several times a day until the hot spot is alleviated.
Their formula is based on Tea Tree oil, Aloe Vera, and Chamomile, which are naturally soothing for the skin. Tea Tree oil also has the added benefit of being a natural pest repellent for both humans and pets. Dallas-based Vet's Best is veterinarian recommended and can be used safely with other pest control treatments, so put your mind at ease when using it for spot treatment.
Lastly, I use the Fou-Stick Soothe Pet Balm. After spot treating with the Hot Spot Spray, I gently massage the balm into the affected skin and surrounding area to help Usagi feel less like scratching at skin that has just been treated. Formulated by FFD Pet , the balm's main ingredients of coconut oil and shea butter help keep the Hot Spot spray in place with a perfect moisturizing barrier. And while we can't use the Hot Spot Spray on cats, I can use Wondercide's Spray to spot treat my cats and then follow up with the Fou-Stick Soothe balm, just as I would with my dog. The aloe vera and neem oil in the balm acts to repel and soothe my cats as the Vet's Best does for my dog.

For further recommendations on preventing and controlling fleas and ticks, check out this video on our Youtube Channel.