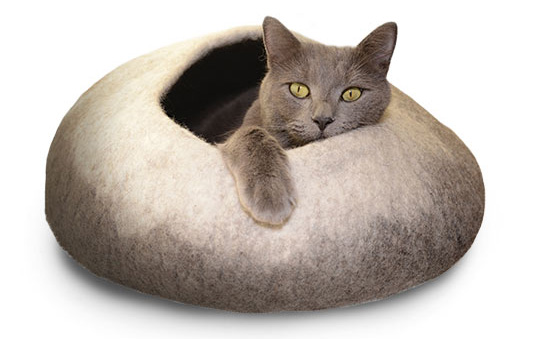 Dharma Dog Karma Cat products combine contemporary design with traditional handcrafting techniques while being environmentally conscious. With over 30 modern and funk designs from kitty cat faces to sea animal caves, there are a ton of bed styles to choose from to fit any pet personality. These beds are "purr-fect" for cats and great for small breed dogs.
How are these adorable beds made? Dharma Dog Karma Cat uses a technique called wet-felting, solely using pure Tibetan and New Zealand wool, natural soap and water. Handcrafted in Nepal, these uniquely crafted pet beds are made with non-toxic dyes. Because these beds are not chemically cleansed, lanolin is used to keep the wool naturally clean, making it anti-microbial and odor resistant. Lanolin is the natural oil unique to sheep's wool and it reminds cats of scent of their mother.
For regular cleaning, simply spot clean with vacuum or with a damp cloth. If the cave gets dirty, turn inside out, and wash on delicate cycle. After the washer, turn it right side out while wet, stuff it with newspapers, and let it dry.
Check out their cute wool toys, too!