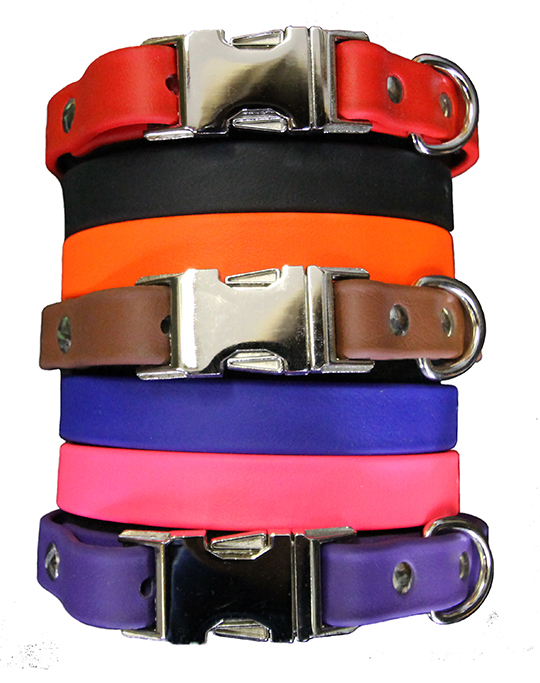 No two dogs are the same, so naturally, a dog collar that fits one pooch may not necessarily work well for another one. This may make shopping around for a dog collar overwhelming and frustrating. Fortunately, at Funny Fur, we offer a variety of dog collars designed to suit your and your dog's needs in the areas of comfort, style, and functionality.
Martingale Dog Collars
One of the most common types of dog collars is the martingale collar. These collars, also known as limited-slip collars, are ideal for pooches with narrow heads -- for instance, Greyhounds, whippets, Afghan hounds, and Salukis. The collars are also helpful for other types of dogs who have mastered how to slip out of their collars. It has been recognized as the most comfortable collar for training dogs.
The martingale collar features a metal ring located at each end, with a separate loop passing through the rings. You can then simply attach a leash to one of the rings. If your furry friend attempts to back out of his collar, the collar will quickly tighten around his neck but without choking him, similar to how a choke-style collar works. Funny Fur's adjustable Nylon Martingale Dog Collar is particularly in demand because it makes it easy to control a dog while still keeping him safe.
Reflective Dog Collars
If you and your dog enjoy going on nighttime walks or doing other activities at night, a reflective dog collar is a must-have. These collars enable you to conveniently keep an eye on your dog, as they immediately reflect your flashlight, a spotlight, or the headlights of approaching automobiles. For example, the Funny Fur Reflective Collar and Lead features 3M reflective tape that looks gray during the daytime but is brilliant at night.
Waterproof Dog Collars
For the pup that seems to attract water like a magnet, a waterproof dog collar couldn't be a more perfect investment. Once your dog has gotten wet, getting him dry and comfortable can be hard enough without having to also worry about the drenched collar around his neck. Whereas regular collars remain wet for hours, waterproof collars dry right away. Funny Fur's Sparky's Choice Waterproof Collar is a top customer choice due to its durable coated polyester. This collar will even remain flexible in temperatures below zero degrees Fahrenheit. Taking care of Man's Best Friend can certainly be a lot of work, but the right dog collar from Funny Fur can make being the daddy or mommy of your favorite fur baby that much easier.