Product Description
PRODUCT DESCRIPTION
Buddy Belt's unique one step, step in harness buckles on top and has o-ring for pet ID tags. This harness was specifically designed with low-cut to remove any pressure from the neck and spine from pets pulling on their leashes. The hand crafter dog harnesses are made from high quality leathers that will contour to your pets body once they are broken in (some limited colors are more distressed and therefore, much softer) and the leather will reduce and prevent matting on dogs with finer hair. Customize any premium color dog harness with crystals, pearls or a star concho!
Attach both the leash and ID tags to the sliding o-ring. The o-ring slides (maybe more stiff when new) to accommodate leash mobility while the Buddy Belt stays snugly in place. Traditional harnesses have stationery D-rings for the leash and when your dog abruptly pulls, the pressure is isolated to one spot. When your dog suddenly pulls on their leash, the o-ring slides and provides extra reaction time which reduces the pressure from abrupt pulling. This helps prevent choking and strain on their neck and trachea.

SIZE GUIDE

& CHECKING FOR PROPER FIT

Please see the video above to learn how to check for proper fit. Refer to picture below on how to wear your Buddy Belt dog harness on your pet.

1. Measure your dog's chest girth. You want a snug measurement, directly behind your pet's front legs. This is also the thickest part of their body.
2. Obtain current weight for your dog.
3. Select the correct size using the chart below.

How to Wear the Buddy Belt
1. Place the harness on ground colour side down. The buckle always goes to your dog's left paw.
2. Step in the harness and fasten the buckle.
3. Attach your leash to the ring & you are ready to use your new harness.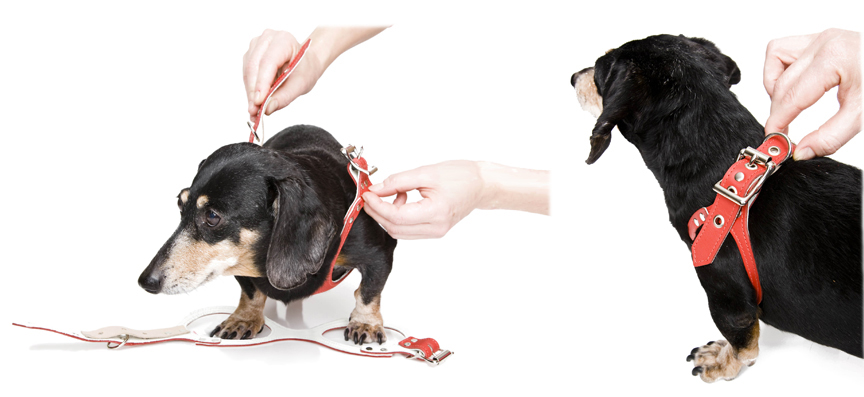 Important Guidelines & Fitting Tips:
An ideal fit will allow enough room for 1-2 fingers under the strap.
The harness should fit

snug

against the body.
If it fits on the tightest (first) hole, try a size smaller.
It's better to be on the last hole, than to have a loose fitting harness.
The harness may stretch to fit one hole smaller as it forms to your dog's chest
Prior to breaking in your new harness, do not keep the harness on for long periods of time. Dogs with senstive underarm skin should get the Buddy Belt suede liners and/or reduce wear time until it is fully broken in.
CUSTOMIZATIONS
A Funnyfur.com exclusive! Customized Buddy Belt dog harnesses and leashes definitely stand out and add more style. Customization is done by the manufacturer Buddy Belts in Canada and typically take 1-2 weeks to ship.
CRYSTALLIZED Buddy Belts are adorned with genuine Swarovski crystals in between buckle holes and large crystal in center. Click on the image above to view image gallery with the Buddy Belt leather color with crystals.
TEXAS STAR Buddy Belts are adorned with a large Texas star concho in the center (now with regular rivets, not star rivets). Click on the image above to view image gallery with the Buddy Belt leather color with Texas star concho.
CRYSTALLIZED Leads are adorned with 6 genuine Swarovski crystals, 3 on each side of the handle.
LEASH GUIDE
Suggested Leash Sizes:
1/2" / 13mm wide leash: BB Harness: Size 1 – Size 4
3/4" / 20mm wide leash: BB Harness: Size 5 – Size 10
Leash Clasp Sizes: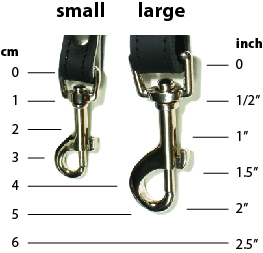 All Leather Leashes:
Premium Collection

– Stock Colours

Premium & Luxury Collection

(Red, Black, Pink, Caramel, Blue, Hot Pink)
(Dawn, Whitecap, Moonlight + Limited colors)
Solid colour leather for full length of leash (top & backing leather)
Colour top leather / Black leather backing
Length: 4′ / 120cm
Length: 4′ / 120cm
Width: ½" / 13mm: Small clasp
Width: ½" / 13mm: Small clasp
Width: ¾" / 20mm: Large clasp
Width: ¾" / 20mm: Large clasp
Care Guide
Buddy Belt harnesses are made of leather. Before initial wear, it is highly recommended that you treat your Buddy Belt with a quality water and stain repellent product. We offer stain guard service with Vectra 16 Protectant for $3-5 which repels tough stains while keeping the suede and leather soft and luxurious looking. Regular stain repellent treatment is recommended to keep your Buddy Belt looking its best. If your Buddy Belt gets wet, allow it to dry flat at room temperature. Never put leather in the dryer. For suede Buddy Belts, buff with a soft towel to restore the surface. Try to avoid products with silicone and/or wax as these ingredients tend to break down the natural oils in leather. Apply product initially and every two to three months with regular wear. Please note that the Buddy Belt dog harness is not intended for swimming or other full water play. To clean your Buddy Belt, gently blot liquid stains with a damp cloth. In the event of salt stains from winter wear, wipe with a clean, damp cloth after each wear and dry naturally. Re-treat as necessary. Our stain guard treatment is non-refundable.


Need assistance with finding the right size? Please contact us and we will be happy to help.
Product Videos
Custom Field
Product Reviews
1 Review
I absolutely love buddy belts! I already had 1 for my other chihuahua so when I adopted my little rescue, getting a buddy belt for her was a no brainer. Unfortunately what I didn't count on was my new pup liking to chew on leather. Sadly she somehow managed to get get her harness down from the coffee table when I wasn't looking and chewed up one of the underarms. We literally had it for a week. ::sigh:: That being said, as long as you keep your harness away from chewers like mine, your harness will last a lifetime. I'll definitely be getting another one for my dog too!