Product Description
Wooflink Strawberry Cupcake sleeveless cotton hoodie. Hood is adorned with large white lace bow. Handwash in cold water. For vintage look, edges will be frayed. If frayed, trim edges carefully for natural vintage look.
Size Chart
We recommend our customers to review our
Sizing Guide
for general recommendations for measuring your pet and finding the right size. The Product Size Guide below are specifications for this product only.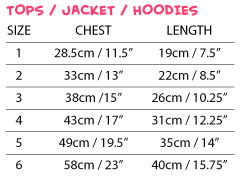 Need assistance with finding the right size? Please
contact us
and we will be happy to help.
Return to top of product page.
Product Videos
Custom Field
Product Reviews
2 Reviews
This Sweatshirt is a cute design and the cotton fabric is really soft to the touch. Fits great

I have these in both colors. The pink is a peachy pink.(don't like) but the white is not optic white but wearable white. The bows are cream. They run little tight in the Bellie but they are so darling! One drawback for me is they fray( that's the style) I don't like the shabby sloppy look for my dogs. I trim the fray off but I still give them a five star anyway.